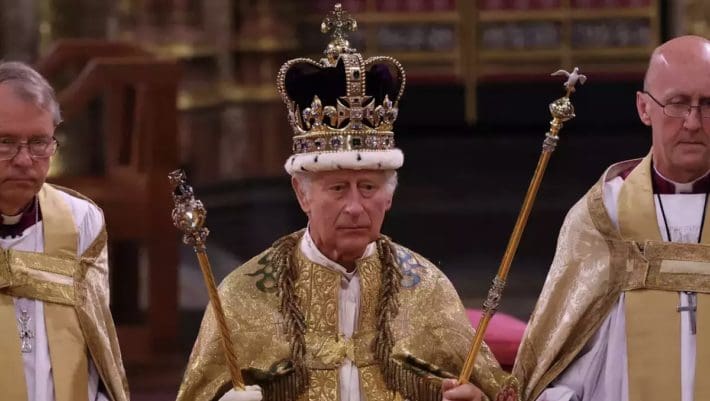 King Charles III is formally crowned King of the United Kingdom in London's Westminster Abbey.
via: Reuters
In front of a congregation of about 100 world leaders and a television audience of millions, the Archbishop of Canterbury, the spiritual leader of the Anglican Church, slowly placed the 360-year-old St Edward's Crown on Charles' head as he sat upon a 14th-century throne in Westminster Abbey.
Gun salutes were fired at the Tower of London and across the capital, the nation, in Gibraltar, Bermuda and on ships at sea. "God save King Charles. Long live King Charles. May the king live forever," the congregation at the abbey said after a trumpet fanfare.
During the historic and solemn two-hour service, which dates back to the time of William the Conqueror in 1066, Charles' second wife Camilla was also crowned queen.
While rooted in history, the ceremony – televised for only the second time – is also an attempt to present a forward-looking monarchy, with those involved reflecting a more diverse country and all its religions.
With the nation struggling to find its way in the political maelstrom after its exit from the European Union and maintain its standing in a new world order, the monarchy's supporters say the royal family provides an international draw, a vital diplomatic tool and a means of keeping Britain on the world stage.
"No other country could put on such a dazzling display – the processions, the pageantry, the ceremonies, and street parties," Prime Minister Rishi Sunak said.
Despite Sunak's enthusiasm, the coronation takes place amid a cost of living crisis and public scepticism, particularly among the young, about the role and relevance of the monarchy.
??? ???????? ?? ??? ????

The Archbishop of Canterbury places St Edward's Crown on The King's anointed head. The clergy, congregation and choir all cry 'God Save The King'.#Coronation pic.twitter.com/kGrV3W0bky

— The Royal Family (@RoyalFamily) May 6, 2023
The King + Queen ?? #Coronation pic.twitter.com/KaZ3971ejP

— HELLO! Canada (@HelloCanada) May 6, 2023