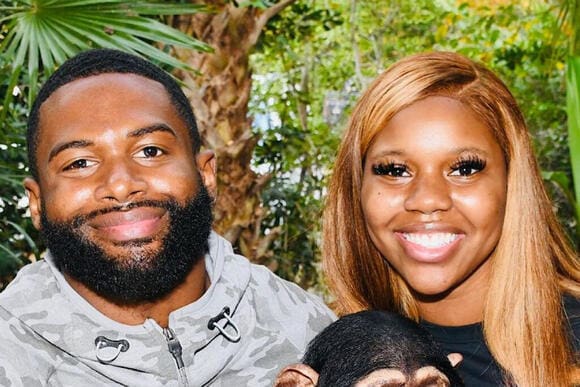 Carlee Russell's boyfriend, Thomar Simmons, has released a statement and confirmed that she was abducted.
via: Daily Beast
"She was literally fighting for her life for 48 hours, so until she's physically & mentally stable again she is not able to give any updates or whereabouts on her kidnapper at this very moment," Thomas Simmons said in an Instagram post Sunday.
It was not clear if Simmons' account came from speaking with Russell, who was rushed to the hospital after she resurfaced, where she was evaluated and eventually treated and released.
Russell's family did not confirm that detail in a Facebook statement and police have provided few details about what happened to her after she disappeared off an Alabama highway on Thursday night.
The statement from Russell's parents also shed no light about what happened to her after her call to 911 call to report a toddler wandering on the highway—just relief that she was back.
"Great morning!!" Talitha Russell, Carlee's mother, said in a Facebook post Sunday, adding, "Our baby is safe!!!!!!!!!! Thank you Father God."
Promising a "general statement in the near future," Talitha Russell added, "Just as we made a commitment to not entertain negative thoughts during the time our daughter was missing, we surely will not entertain negative thoughts/statements, unvalidated opinions, or sheer ignorance at such a joyous time."
Earlier details from the investigation indicate Carlee Russell was driving home from work on I-459 South when she phoned police dispatchers to report a child walking on the side of the interstate, according to the Hoover Police Department. Police said she also called a family member—but then seemingly lost contact. Responding cops found no sign of Carlee or a child, but located her vehicle.
While she was missing, her parents said they thought it was possible the toddler was used as "bait" to lure their daughter out of her car.
"Carlee's 911 call remains the only timely report of a child on the interstate," police said in a Sunday press release, which sheds some new light on the case thus far, including her movements before the 911 call.
Traffic camera footage has been obtained and is "still being analyzed as part of the investigation in conjunction with the 911 call to accurately determine the timeframe."
"Hoover Police officers arrived on scene within five minutes of being dispatched, and several other officers arrived shortly behind," police said in the press release. "They located Carlee's wig, cell phone and purse on the roadway near her vehicle, and Carlee's Apple Watch was in her purse. Investigators with the Crimes Against Persons Unit were notified and the investigation immediately began in earnest with numerous leads being followed."
The Hoover Police Department said that "no stone was left unturned," and that dozens of local residents and scores of police officers searched for Russell before she turned up on foot at 10:44 p.m. July 15.
"She walked up, banged on the door, and that was her," Hoover Police Chief Nick Derzis told WBRC.
He said that police wanted to "give Carlee and family a little time to get themselves back together. I know it's been a tough experience for them. When we think it's time to sit down and have a conversation with Carlee and try to get some facts, we'll do that."
On Sunday police revealed that detectives had taken an initial statement from Carlee. "The details of that statement are a part of the ongoing investigation which is expected to continue over the next few days. During the initial portion of the investigation detectives were able to retrace nearly all of Carlee's steps until the point she went missing and are confident that will continue to be the case."
The family, meanwhile, requested privacy to "allow us to just love on our daughter and each other."
"Also, please consider the fact that we have not slept for 3 nights and we are mentally and physically exhausted," the statement said.
The Hoover Police Department was unable to confirm or deny to The Daily Beast that Carlee was abducted.
"As we continue to investigate we will release information that is determined to be factual and pertinent to the public," it said.