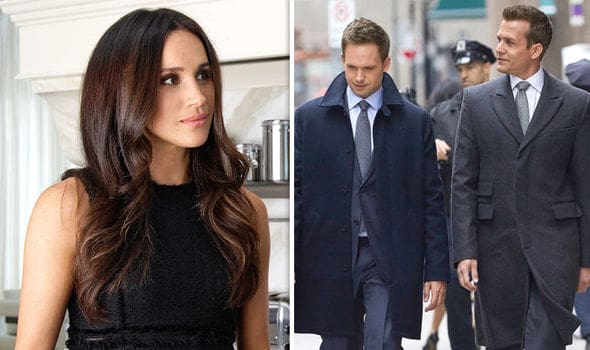 The hottest show on Netflix, and all of streaming, this summer might be the old USA series 'Suits' starring Meghan Markle.
via: Uproxx
People, there's no shortage of new TV shows to stream. Even with the WGA and SAG-AFTRA strikes running for god knows how long, the streaming services have no shortage of projects coming, much like during the pandemic. Yet it says plenty that billions of minutes of a TV show that ended in 2019 are being streamed weekly. That series, as you can probably guess by now, is Suits (starring Meghan Markle), which is somehow now the biggest show of 2023. The streaming audience at large has apparently decided that this comfort show is more their style than The Witcher Season 3, and the Nielsen numbers don't lie.
As Deadline reveals, Suits has actually busted through its own Nielsen "record for acquired programming." It's done so twice, and now, the USA Network show has conquered the third week at the top of the Nielsen streaming TV chart. From July 3-9, 3.7 billion (not million) minutes of the show rolled onto streaming devices, which is astronomical. What's potentially even wilder is that the focus of these minutes have been from Season 1, meaning that the influx of viewers will likely work their way through seven more seasons (Season 9 has not yet hit Netflix).
This practically guarantees that Suits will land in the Netflix Top 10 All-Time list for streaming TV series. Whoa:
This marks the third week that Suits took the No. 1 spot on the Nielsen streaming charts. According to Nielsen, this week's viewing also puts the series at No. 13 on the company's list of highest weekly viewing totals of all time for a streaming program, behind shows like Stranger Things, Wednesday, Tiger King, and Ozark.
Nielsen also reported that, even in the third week, viewership has been primarily concentrated to Season 1. This indicates that there's plenty more weeks on the streaming charts ahead for Suits. In fact, Nielsen predicts that we haven't yet seen the viewing peak for the decade-old series.
Meanwhile, The Witcher landed at #3 on that same week, which isn't too shabby, but still, one would have guessed that new episodes would have pushed the fantasy series higher on the chart.
What is (still) happening with Suits? Well, we can guess one thing for sure. These clicks aren't coming from Prince Harry after he admitted to being seriously disturbed by his wife's sex scenes of yesteryear. Let's hope that he's recovered by now.