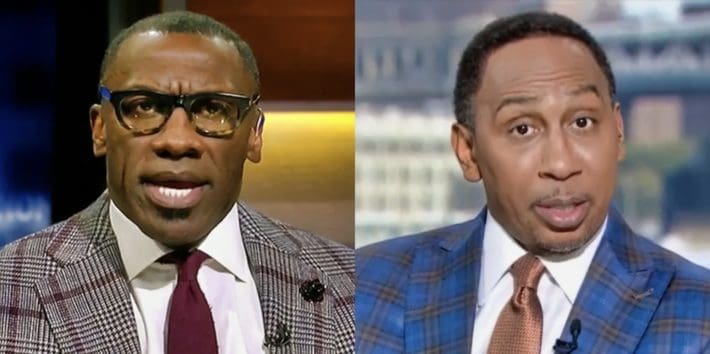 Two months after saying goodbye to FS1 and Undisputed, it's confirmed Shannon Sharpe he is heading to ESPN.
via: Uproxx
Stephen A. Smith kicked off Thursday's edition of First Take by announcing the worst-kept secret in all of sports media. After previously shooting down a report that Shannon Sharpe would join the show's roster of personalities, Smith announced that Sharpe is coming to ESPN in the not-too-distant future.
Stephen A. ? Shannon Sharpe@ShannonSharpe joins @FirstTake September 4 ? pic.twitter.com/zsLMBIMtHc

— ESPN (@espn) August 24, 2023
"I honestly didn't know I had an announcement to make until literally 60 seconds ago, but I was informed that it's official," Smith said. After getting into the success that First Take has had on the airwaves for the last decade-plus, Smith then announced his newest debate foil.
"It's all about not standing still and taking it to another level, and official, this morning, Mr. Shannon Sharpe will be joining the crew," Smith said. "He will be joining First Take, it is official, Shannon Sharpe is coming to First Take. He will debut Monday, September 4th, he will be on here every Monday and Tuesday with yours truly, of course the crew — Dan Orlovsky, Kimberly, Marcus Spears, Mad Dog Russo, Ryan Clark and the crew."
Smith also teased another announcement for sometime next week, although he did not get into what that would be. It's been known for months that Smith wanted Sharpe to join him on the show following his departure from Undisputed on Fox Sports, so long as it came under the condition that he was not a full-time co-host.
The original report regarding Sharpe joining ESPN indicated that he would be on First Take during the football season. It is unclear if there are any plans to have him on beyond that.
GET YOUR POPCORN READY???? #2HBCUALUMS #SSU #WSSU pic.twitter.com/2xoj0sSupP

— shannon sharpe (@ShannonSharpe) August 24, 2023