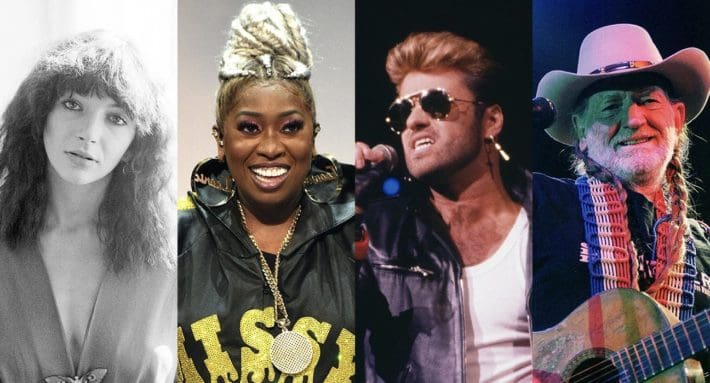 Today (May 3), the 2023 Rock And Roll Hall Of Fame class has been revealed and it's a prestigious crop, featuring Willie Nelson, Missy Elliott, Kate Bush, Rage Against The Machine, Sheryl Crow, George Michael, and The Spinners.
The icons will officially be anointed as rock 'n' roll royalty on Nov. 3 when the 38th annual Rock & Roll Hall of Fame Induction Ceremony takes place at the Barclays Center in Brooklyn, New York.
"This year's incredible group of Inductees reflects the diverse artists and sounds that define rock & roll," John Sykes, chairman of the Rock & Roll Hall of Fame Foundation, said in a statement Wednesday. "We are honored that this November's Induction Ceremony in New York will coincide with two milestones in music culture; the 90th birthday of Willie Nelson and the 50th anniversary of the birth of hip-hop."
Others to make it into the Rock Hall include hip-hop founding father DJ Kool Herc and guitar great Link Wray, who will both earn the Musical Influence Award; funk-R&B queen Chaka Khan and prolific songwriter-musicians Al Kooper and Bernie Taupin will receive the Musical Excellence Award; and the Ahmet Ertegun Award, an honor for non-performing industry professionals, will go to Soul Train creator Don Cornelius, who died in 2012.
Artists are required to have released their first record 25 years prior to be eligible for induction into the Rock Hall.
Elliott is being inducted in her first year of eligibility and becomes the first female rapper to enter the prestigious music organization. She is the 11th rapper overall, following acts like Grandmaster Flash and the Furious Five, Jay-Z, N.W.A. and Eminem.
Nelson, Crow and Michael — who died in 2016 — were selected to be inducted into the Hall after being nominated for the first time.
Tom Morello, Brad Wilk, Tim Commerford and Zack de la Rocha will be inducted for Rage Against the Machine, while inductees for The Spinners include Henry Fambrough, Billy Henderson, Pervis Jackson, Bobbie Smith and Philippé Wynne.